The US healthcare delivery system received never seen before shocks over the past four months. In an industry known for moving cautiously and deliberately, medical providers and practices have suddenly been called upon to rapidly adjust processes, change attitudes, and abandon routines in the face of this pandemic. A worrisome by-product of this scramble lies at the very front-edge of practices' efforts to keep both patients and staff safe: the COVID-19 patient screening process.
To get patients (and staff!) back into the office, practices must establish an aura of safety from the moment those patients arrive. Anecdotally, the intake processes many of us here at Raxia encountered while returning to see our healthcare providers have been unsettling: bumping into other patients at the entrance, walking into tiny waiting rooms, filling out paper questionnaires on unsanitized clipboards. That led us to wonder, is it similarly troubling at most practices? How are medical practices interacting with their patients at check-in and how are they conducting their COVID-19 screening? We reached out to 3300 independent medical practices and asked them a series of questions about not only how they are handling COVID-19 screening but also about their views as to the importance and impact of having to check every one of their patients.
26% of the practices surveyed conduct their COVID-19 screening at their reception desk. Given the fact that every practice that we surveyed confirmed they turn away any patient exhibiting symptoms, it's problematic that potentially COVID-19 positive individuals are brought indoors to be screened. On the other hand, the remaining 74% of surveyed practices that are screening their patients outside their facility or just inside their entrance (50% and 24% respectively) force their patients to queue up outside the facility in all weather conditions — be it blazing summer heat, winter cold, or pouring rain.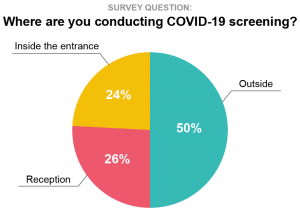 The COVID-19 screening questionnaires are manually filled out (whether on paper or digitally) by staff 56% of the time, directly by the patient 9% of the time, or aren't recorded in any form whatsoever 35% of the time. Again, practices face tough choices. When the questionnaires are filled out by staff, the process is tedious and, for nearly three-quarters (74%) of that cohort, the screening is conducted face-to-face with the incoming patient — still exposing those staff members to possible infection. When the questionnaires are completed directly by patients, it means passing the clipboards, pens, pencils, and tablets through numerous hands all day long.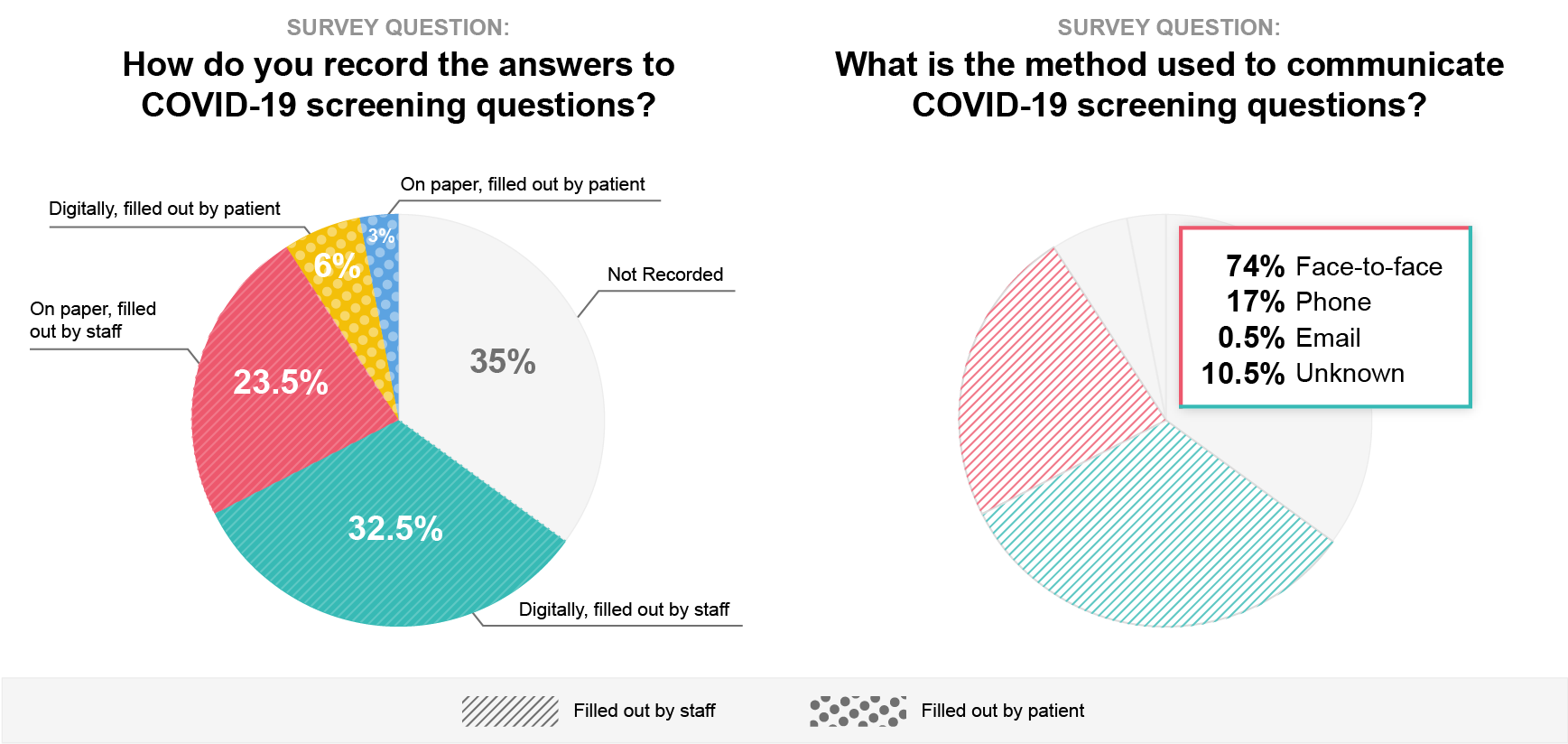 When asked to score the importance of screening patients for COVID-19, practices reported an average score of 4.7 on a scale from 1 to 5. Yet interestingly, when asked to provide freeform commentary on their greatest concerns, respondents expressed a desire for greater automation and less staff effort around collecting screening information from patients three times more often than they cited improved staff and patient safety.
It was clear to us here at Raxia that medical practices need better, safer, and faster tools to address the many issues around COVID-19 screening during patient intake. Based on feedback from this survey and in conjunction with several practices that have been using it successfully to screen for COVID-19, we developed an automated and completely touch-free check-in solution. Raxia Contactless Check-in keeps employees and patients safe and enables practices to see more patients and utilize staff time more efficiently. We are currently offering it for free. Give us a call or learn more at the link below.
Raxia's Platform eliminates the face-to-face risks